---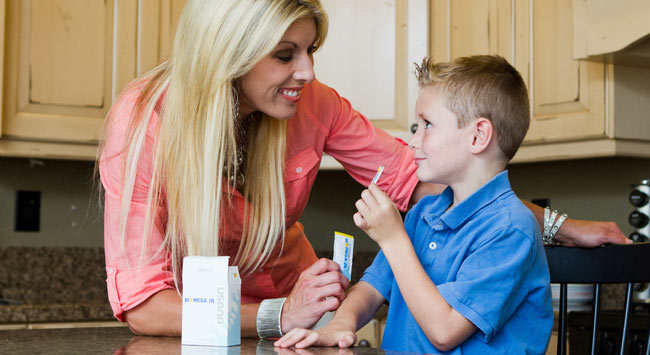 There's at least one in most families—picky eaters. Children are often the culprit of turning up their noses to dinner. Unfortunately, the foods that get the "stink eye" the most are the foods needed for proper cellular function and growth. Help even the pickiest eater get the omega-3 fatty acids they need with BiOmega™ Jr.

Yes, this omega-3 supplement is now available in Canada and the U.S. and is sure to help growing minds and bodies. Much like the BiOmega™ you take to help keep your memory sharp, this junior formula is filled with highly absorbable omega-3 fatty acids necessary for cognitive development.

Packaged in individual foil packets, each serving delivers 230 mg of Docosahexaenoic acid (DHA), 350 mg of Eicosapentaenoic acid (EPA), and 1000 International Units of vitamin D. In other words, it helps support the development of the brain and nerves in children up to 12 years of age. It also helps in the development and maintenance of teeth and bones.

The new BiOmega Jr. packs are not only packed with brain-boosting nutrients, but they are also incredibly convenient. Kids can simply rip off the corner and take it straight or mix it in with their favourite yogurt, applesauce, or creamy, cold substance. Keep the packets in the fridge, pack them in lunches, or serve them for dessert. And although they contain fish oil, there's no fishy aftertaste, so even the pickiest palates are sure to enjoy this delicious, orange-pineapple flavoured gel.

BiOmega Jr. is now available in the shopping cart. Order a box or add it to your Autoship and give your kids a head start today.
Be sure to indicate your market (country) at the top right. You'll find BiOmega Jr. under Nutritionals.
Shop here:
Dave and Deanna Waters
Dedicated to Your Health and Happinesss
Please let us know how we can help you.
www.ddwaters.com