Everyone is looking for solutions. For their health. Their finances. For greater tax advantages. For more free time for family, friends and interests. Solutions. And now there is a solution in the form of a video from Usana Health Sciences. As a Usana Associate, read below how you can easily share the Usana solutions for so many of the challenges people are facing today.
---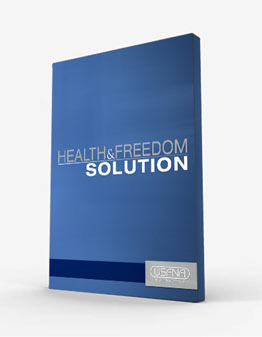 You raved about it when it was announced at Convention. You couldn't wait to get your hands on a copy of it. You wanted every single person on your team to have access to it as well. And now, after much anticipation, the online version of The Health & Freedom Solution is available to you.

Now that you can have access to this groundbreaking presentation both as a hard copy and online, there are no excuses for not sharing this tool with your prospects. With your subscription to The Income Maximizer™, you can personalize the presentation you send. You can add in your own message, image, and contact information, then see if your presentation was viewed through USANA's Follow-Up Assistant.

To access the online version of The Health & Freedom Solution, go to the "Prospecting" tab on USANAtoday.com and click on "Health & Freedom Solution" from the drop-down menu. From there, you have the ability to subscribe to The Income Maximizer, personalize your presentation, and preview it as well. Other features of the presentation are also listed there.

Although currently only the US English, CAN English, and AU English are online, all the other markets' versions are following in hot pursuit and will be available soon.

The Health & Freedom Solution is the strongest online prospecting tool USANA has ever offered. Start using it today and you will soon discover the Solution equals success!

For more details about the online version of The Health & Freedom Solution, or if you have any other questions, be sure to visit Ask Andy located under the Training menu.
Deanna Waters 1-888-320-8250
Share Usana Health Sciences with the Solutions Video
Solutions for Health, Finances and Time Freedom