One Organ, One Tablet, Multi Purposes...
---
I never gave much thought to my liver, until a friend was dying of liver disease. That made me wonder what the liver actually does in the body. What's its purpose and what can you and I do to keep it healthy?
Well, the liver helps your body fight off the everyday harmful contaminants you come in contact with, from the air you breathe, the foods you eat, and the liquids you drink. Most of us don't realize the constant barrage of chemicals imposed on our body.

So, when Usana introduced a supplement called Hepa Plus® I figured I better take it seriously. I look at it as my hero, doing battle every day against unseen enemy attacks. It's like having Batman and Robin to the rescue.

Serving as backup to your liver in the detoxification of your body on a regular basis, Hepa Plus is a proprietary blend made up of nutrients that support the liver in both phases of detoxification, as well as protect and maintain healthy liver cells.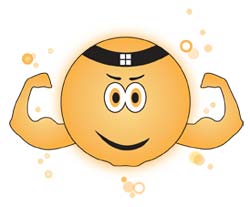 What makes this sidekick tick?
Choline helps process dietary fat and transport it from the liver.

Milk-thistle extract provides strong antioxidant properties to help defend against oxidative stress generated by the detoxification process.

Phytochemicals in milk thistle also assist with protein synthesis, which may help regenerate liver cells.

Alpha lipoic acid supports important enzymes both inside and outside the cells.

N-Acetyl-L-Cysteine scavenges free radicals inside and outside the cell and promotes detoxification.

Hepa Plus and your liver have an incredibly strong partnership, but they'll never turn their backs on others who can assist in the fight for True Health. The Mega Antioxidant and MultiMineral Plus found in USANA's Essentials™ are loyal compatriots that provide other important nutrients for maintaining your body's normal detoxification processes as well as supporting healthy immune function.

Other Interesting Facts About Hepa Plus

Now made using USANA's innovative Nutritional Hybrid Technology. By separating alpha lipoic acid from the rest of the ingredients, Hepa Plus is now more stable, so it won't break apart as easily.
The proprietary antioxidant blend in Hepa Plus includes turmeric extract and patented Olivol™ olive-fruit extract, both of which are unmatched for liver support.
Think of Hepa Plus as a supplemental "Robin" to your liver's "Batman." Not to mention the fact that Hepa Plus doesn't need to wear green tights to show off its amazing powers.
Deanna Waters, Diamond Director
Committed to Promoting a Happy, Healthy Lifestyle with Usana
Questions? Let me hear from you! 1-888-320-8250