At a Glance.....Will You Include Soy in Your Diet?
A recent study among Chinese women showed that those with the highest intakes of soy foods and soy isoflavones had a significantly lower risk of breast cancer.

Read more about this research below.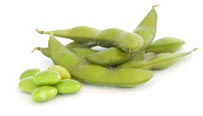 Research seeking to find a connection between soy food consumption and breast cancer risk has produced conflicting results.
A recent case-control study was conducted to assess the relationship between soy food intake and breast cancer risk according to the estrogen receptor (ER) and/or progesterone receptor (PR) status of breast cancer. Participants included 438 Chinese women with primary breast cancer that were matched by age and residence (rural/urban) with 438 women free of cancer. Dietary intake was assessed by face-to-face interviews using a validated food frequency questionnaire.
Researchers observed a statistically significant inverse association between soy isoflavone and soy protein intake with breast cancer risk. The women in the group with the highest soy isoflavone intake had a 46% decreased cancer risk compared to the group with the lowest intake. Women in the group with the highest soy protein had a 38% reduced cancer risk compared to the lowest intake group. A preventive effect of soy food was found for all subtypes of ER and/or PR status of breast cancer. The inverse association was more evident among premenopausal women.
This study suggests that consumption of soy foods and soy isoflavones may reduce the risk of breast cancer, and that the protective effects of soy do not seem to differ by ER and PR breast cancer status.
Soy product and isoflavone intake and breast cancer risk defined by hormone receptor status. Zhang C et al. Cancer Sci. 2010 Feb;101(2):501-7
Note: From this and other soy protein research studies, I have felt for some time that I need to add soy to my diet, but it's not something I grew up with.

However, I now add edamame beans to our salads on a regular basis. I also add one scoop of Usana's pure SoyaMax high protein isolate powder to my Nutrimeal shake in the morning. Sometimes, I sprinkle a scoop of SoyaMax on my multi-grain cereal.

I get some of my needed soy isoflavones from Usana's PhytoEstrin.

Everyone has to determine their own dietary choices, but it's nice to have options from Usana, if you do choose to include soy.
Deanna Waters www.ddwaters.com 1-888-320-8250